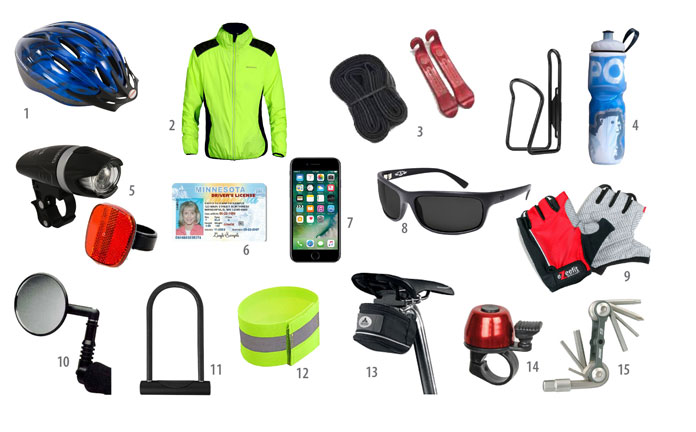 Basic Bicycle Safety Equipment
1. Wear a properly fitted helmet every time you ride. Wearing a helmet can reduce the severity of head and brain injuries. (See Tips For Fitting a Bike Helmet.)

2. Use reflective tape, gear, or accessories at night to be as visible as possible.

3. Carry a tire pump, tire levers, patch kit, and spare tube.

4. Carry water or a sports drink using a water bottle holder (often called a cage).

5. Equip your bike with a white front headlight as well as a red rear reflector and/or light for riding in twilight, darkness, and poor weather conditions. (Legally required in Minnesota.)

6. Carry identification and pertinent medical information.

7. Carry a cell phone in case of an emergency and to document issues.

8. Use shatter-resistant protective eye wear.
Helpful Equipment
9. Wear bicycling gloves to protect your hands in the event of a crash.

10. Install a mirror on your handlebar, helmet, or glasses to improve your overall awareness and to see trailing vehicles and riding companions.

11. Carry a lock to secure your bike. (See Theft Prevention.)

12. Wear reflective leg bands to keep long pants away from your chain.

13. Carry a bag under your saddle, on your rack (panniers), or on your back.

14. Install a bell or horn to warn others of your approach, especially on trails.

15. Carry a multi-tool to help with basic repairs. A crescent wrench is helpful with certain bikes. (See Fixing a Flat.)